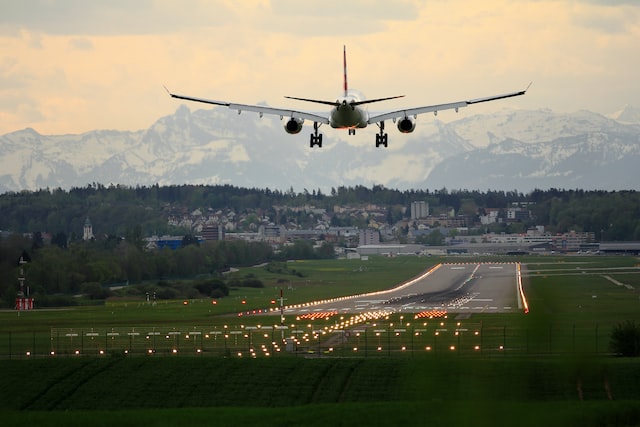 Influence of Mopa Airport on Real Estate in Goa
Goa has always been regarded as one of the most desirable destinations in the country for wealthy Indians to invest in real estate. The COVID-19 outbreak accelerated demand for luxury properties in the coastal state, and prices in North Goa have grown significantly in the last two years.
The Mopa International Airport is due to open shortly in Goa. The new airport will be a booster for demand for real estate in India's coastline state, which is already on a roll following the pandemic.
About the new Mopa Airport
Prime Minister Narendra Modi lay the groundwork for the building of Mopa Airport in November 2016. The opening and inauguration of Mopa Airport had been scheduled for August 2022, with commercial operations beginning by the end of 2022.

GMR Airports Ltd., via its subsidiary Goa International Airport Limited, is developing Mopa International Airport in North Goa's Pernem taluka (GGIAL).

The airport will include an Integrated Passenger Terminal Facility, an Air Traffic Control (ATC) facility, meteorological complexes, a cargo station, auxiliary storage and processing amenities, aircraft emergency and firefighting systems, and aviation fuel supplies.

Mopa Airport will ease pressure on the current Dabolim International Airport, which maintains its infrastructure with the Indian Navy, limiting commercial operating hours and causing airside traffic during rush periods. However, Goa Chief Minister Pramod Sawant has stated that the airport in Dabolim would not be closed after the new international airport in Mopa is operational.
What makes Goa lucrative for investments in real estate?
Goa is famed for its beautiful green backyards, pristine woods, orchards and farmland, streams, and much more, in addition to its world-famous beaches. There are many lovely sites for environment enthusiasts, which will lead to the development of nature retreats, eco-tourism resorts, tree cabins, forest cabins, and plenty more. Similarly, Ayurvedic massage centres and spas, wellbeing programs, health and wellness tours, yoga retreats, and other categories are predicted to increase at an exponential rate.

People's purchasing potential is high, and the quantity of high individuals is increasing, making Goa an ideal investment location. The rationale behind this shift is simple: the cost of owning a house in one of the country's most vital areas has not yet gone out of reach!

Property prices in Goa are reasonable when compared to other metros, and savvy investors are making wise investments in one of the fastest rising real estate sectors.

A yearly rental return on a house in Goa might range between 12 and 15%. A big number of individuals are putting their money into Goa real estate. Goa is an ideal investment location due to the high returns on property.

The availability of vast plots of land has prompted both small and major property developers to establish commercial and residential developments in Goa. These developments provide a broad range of lodgings, including single-story apartments, duplex and semi-duplex apartments, big and medium villas, vacation homes, bungalows with cutting-edge services, and beachfront apartments. You may invest in any home that meets your needs and have a lucrative enterprise in Goa that provides you with excellent returns in the form of rents.

Goa's relaxed pace of life, stunning beaches, ancient villages, and exotic places have drawn travellers from all over the world. The majority of investments in real estate are made by those who have previously visited Goa as a vacation destination and now wish to invest in purchasing their own house in the most exciting place - the lovely Goa! To avoid having their property locked up for the remainder of the calendar year, they rent it out to visitors and travellers and earn a good living.
What are the statistics advocating for the positive influence of Mopa Airport on real estate in Goa?
● Goa tops domestic market for second homes, which as per a recent survey, one-fifth(1/5th) of responders were interested in purchasing a second property in the state.
● Approximately 70% of demand falls under the Rs. 1 – 2 Crore pricing bracket.
● With operations at Goa's MOPA airport slated to begin shortly, a real estate advice group predicts that prices in North Goa and the surrounding Konkan region would rise by 27-30 percent every year.
● According to one of India's largest real estate consultants, property values in the surrounding area would skyrocket once operations begin. Property prices near the airport are now Rs 6,700 per sq ft. and are expected to rise by 27.8 percent over the following year. According to a recent study, typical home prices have climbed at a CAGR of 3.9% over the last four years.
● The increase in pricing will be anchored in increasing investment in real estate and an increase in ecotourism development following the airport's opening.
● The second & holiday home markets are already booming. For the next five years, the holiday home market is expected to develop at an annual compound rate of growth of 23.63%.
● As the notion of virtual migrations, remote work, and workation grows in popularity, many experts and entrepreneurs relocate to Goa and accept long-term leases on villas, cottages, and other properties. Prior to the pandemic, the typical occupancy was around 40-50%. Aside from lengthier leases, an increase in demand for prolonged weekends is fuelling the rental market.
● Rental returns in Goa have fluctuated between the 6-8% range and are on the rise. Since 2019, well before pandemic, land prices have increased by more than 20 – 30%.
In what other ways can the construction of the Mopa Airport benefit investors?
● Goa is a well-known beach tourism destination across the world. With the introduction of airport services, the region would be smoothly connected not just to major Indian cities, but also to the rest of the globe. While its famed beaches would continue to draw a great number of visitors, other types of tourism, including leisure and nature tourism, will develop around and within the MOPA airport zone.
● With the exception of tourism, the Rs 2,600 crores airport project would feed real estate market in the MOPA region, greater North Goa, and the surrounding Konkan region, both directly and indirectly. Already, 232 acres of land surrounding the airport site have been designated for development into a thriving commercial, logistical, and residential sector. The proposed development would include 5-star resorts, casinos, theme parks, malls, and other amenities.
● Investors are likely to flock to North Goa and the Sindhudurg area in considerable numbers. Higher potential capital gains and good rental returns will boost the investor frenzy in the coming months.
● There will be several new developments in the area, including cottages, retirement and vacation houses, gated villas, farming villages, and much more. Owning a house or luxury villa in Goa was formerly considered a source of pride. As the region becomes more connected to the rest of the world, the demand for Retirement & Second Accommodation (RSH) housing will skyrocket.
Conclusion
With the easing of the pandemic and lockdown, ultra-high-net-worth people are said to prefer investing in real estate above any other asset type.

The growing trend of vacationers as well as investments has boosted the construction of luxury real estate in Goa. Builders are now focusing on luxury housing sections that meet the needs of vacationers in every way. So, if you want to buy in or lease a luxury resort or bungalow in a fantastic holiday spot, Goa has the best possibilities.

Once the new facility of the Mopa Airport is open, accessibility is likely to improve, boosting economic and social development. The favourable influence of the Mopa Airport will also spread to surrounding regions like as Morjim, Siolim, Camurlim, Revora, Thivim and others, where real estate demand would skyrocket.
How can we help you?
Stationed in Goa, Conrad Homes specialises in real estate, particularly, in the sale and rental of luxury villas & apartments, commercial plots and holiday homes in the area.

At Conrad Homes, real estate is not just another field of business – it is the real deal. We understand how much value it holds in someone's life, and how they want the same to be perfect. Which is why, we bring to you, investment options in real estate in cities which can get you the maximum returns.

Conrad Homes has a team of highly experienced real estate experts that are committed to providing you with quality and personalised services.

We highlight lucrative real estate investments' options in Goa for you. We are mindful of your resources, your goals regarding your investment, and your preferences. We realise that buying or selling a house is more than simply a transaction: it is a life-changing event.

Conrad Homes is the #1 realtor in Goa if you're looking to buy your dream holiday home in Goa. We are your one-stop shop for the real estate industry knowledge and assistance. We provide a clear procedure to help you make property investment decisions.

Contact us at +91 8390683603, or visit us at www.conradhomesgoa.com to know more!